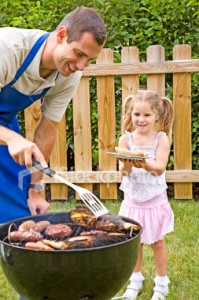 AN appeal has gone out to residents living in Cleveland to "think safety" this summer when organising home barbecues.
The warning comes from Cleveland Fire Brigade and coincides with the start of the summer school holidays when lots of people will be enjoying the great outdoors.
 "Les Jones, Head of Community Safety with Cleveland Fire Brigade, said: "This is the most popular time of the year for people to have barbecues which is why we have issued this safety reminder.
"By following some simple rules you can ensure your barbecue is a safe and that your barbecue is fun".
Barbecues must be placed on a flat surface and away from fences, trees and sheds
A depth of about 5cms (2 inches) or just enough charcoal to cover the base should be used
Remember never use petrol or paraffin to start, or revive, your barbecue
Be prepared – keep a bucket of water or garden hose nearby, in case of emergencies
Enjoy yourself, but don't drink too much alcohol if you are in charge of the barbecue
Children, pets and garden games must be kept away from the cooking area
Unattended barbecues cause fires
Ensure your barbecue is cool before trying to move it after cooking
Following your barbecue, empty the ashes onto soil not into dustbins or wheelie bins
Understand and follow the safety instructions provided with disposable barbecues
Never barbecue indoors
Les Jones added: "This may seem a long list but most of these things are common sense. By far the biggest danger is the use of flammable liquids to light the barbecue. There have been occasions in the past when people have poured petrol onto the charcoal in an effort to get it going and the reaction has, not surprisingly, been violent and highly dangerous. We advise that people prepare well in advance and light the charcoal early. Our message is 'Think Safety' when organising a barbecue.
To help keep you and your family safe from fire, the Brigade provides free Home Fire Safety Visits and will fit smoke alarms if needed. Call us on 01429 874063 to arrange a visit to your home and you will receive specific fire safety advice for you and your family.