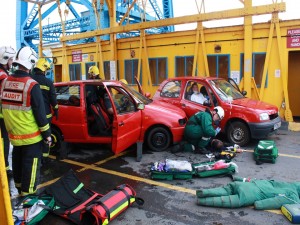 The Transporter Bridge was the scene for a training exercise last week, where Cleveland Fire Brigade and other emergency services demonstrated an unusual rescue as part of the Chief Fire Officers Association (CFOA) Road Safety Day.
Volunteers from the Cleveland Fire Support Network acted as casualties in the scenario which involved the gondola on the Transporter Bridge becoming stuck half way over the River Tees and two cars being involved in a collision on it.
As the drama unfolded, fire crews and their counterparts including the North East Ambulance Service (NEAS) Regional HART Team and Cleveland and Durham Road Policing Unit saw a part of the mechanism which had failed on the bridge to fall onto the gondola roof, which had brought on a suspected heart attack of an elderly gentleman causing him to inadvertently press the accelerator resulting in a collision with another vehicle. The attendant who was checking the fares at the time was then trapped in between both cars.
The aim of the exercise was to test safe systems of working near water and at a height in a realistic environment and practice casualty care including the use of a defibrillator.
Over the course of the week 1,500 members of the public took part in other events across Teesside held by the Brigade which helped raise the awareness of car safety including driver fatigue, speeding, the importance of wearing seatbelts and checking child restraints.
Steve Walton, Redcar District Manager, said: "Every year almost 2,000 people are killed on the roads of the UK and we carry out these activities to educate all road users and reduce the number of collisions that occur.
"We carry out exercises to help prepare us for all eventualities but ultimately prevention is always better than cure."