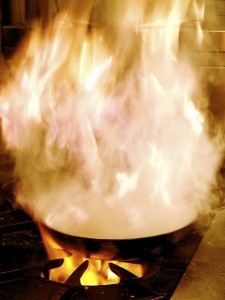 Cleveland Fire Brigade attended a fatal house fire at Formby Close, Hartlepool in the early hours of Monday 30 May. The outcome of the investigation was an accidental house fire caused by an unattended chip pan.
Every year in the UK more than 8,000 fires, 3,000 injuries and 30 deaths can be attributed to chip pan fires. In Cleveland half of accidental house fires start in the kitchen with the main causes being people leaving pans unattended including grills and chip pans, or items being left too close to the heat source such as towels and paper.
Phil Lancaster, Director of Community Protection said "I would like to extend the heartfelt condolences from everyone in Cleveland Fire Brigade to Craig's family at this very difficult time."
"This incident was a tragedy which could have been avoided by disposing of an old fashioned chip pan and not leaving cooking unattended. The Fire Brigade has campaigned for many years for households to switch their chip pans for a healthier alternative or to at least use thermostatically controlled deep fat fryers."
"Unfortunately people still think a house fire is something that happens to other people, but the sad reality is fire can occur in anyone's home – it could be you.  Our number one priority is the safety of our communities and we will continue to raise the awareness of fire safety to help people make their homes a safer place".
Our top safety tips:
Dispose of your old fashioned chip pan and switch to a healthier alternative such as oven chips
Don't leave any cooking unattended
Don't drink and fry/cook
To help keep you and your family safe from fire,the Brigade provides free Home Fire Safety Visits and will fit smoke alarms if needed. Call 01429 874063 to arrange a visit to your home and you will receive specific fire safety advice for you and your family.