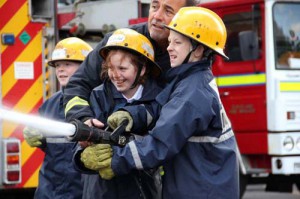 Pupils from a Cleveland school recently swapped the classroom for their local fire station to learn about key safety tips.
Around 30 children from Viewley Hill Primary School in Hemlington spent half a day at Coulby Newham Fire Station with fire crews and volunteers from the Cleveland Fire Support Network.
The children, aged 9 and10 years, were split into groups and tested their skills during a range of events including simulated search and rescue, team building activities, fire hose fun and 'Heartstart' training.
Erimus Housing has worked with the Brigade and the Cleveland Fire Support Network to support and fund school visits. The Network is a charitable organisation which supports Cleveland Fire Brigade and aims to reduce fires and supports victims of fire.
Andy Witham, Coulby Newham Station Manager, said: "There are some areas in Hemlington which have been identified as having issues with anti-social behaviour including arson. By engaging with local school children we can teach them about fire safety and about the consequences of anti-social behaviour and the impact it has on the community."
Mrs Judy Pollard, of Viewley Hill Primary School, commented: "The children thoroughly enjoyed the visit and all of the activities. They learned many new skills and are developing really good links with the firefighters, which I hope will encourage them to be responsible citizens both now and in the future."
Heather Whyman, Chief Executive Officer for Cleveland Fire Support Network, added: "We work closely with local partners to help improve our communities and what better way than injecting some of the funding that Erimus Housing has kindly donated to our charity into the education of our local children."
 For more information on this event please contact Heather Whyman on 01642 288009.