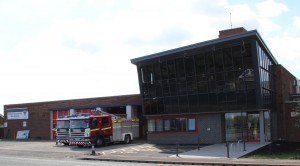 Our new Redcar Community Fire Station located on Trunk Road is now open and is a state-of-the-art fire station and community centre. Fire crews are fully operational from the site, whilst the community centre side with be open from Monday 20 June 2011. Our community centre aims to bring together partner agencies under one roof to deliver services to meet the needs of children and young people in the area.
Partners who will be using the centre alongside Cleveland Fire Brigade include Redcar and Cleveland Council, Safe in Tees Valley, Anti-social Behaviour Team, Cleveland Police.
Services expected to run from the building include the Prince's Trust, Foundation Learning for young people who are Not in Education, Employment or Training (NEET), Community Space Challenge – programme to improve local outdoor spaces, health and wellbeing courses, Fire-Fit and many other activities.
Ian Hayton, Chief Fire Officer said: "This is an innovative project which will integrate local services and agencies to create a one-stop-shop for the community. We are delighted the centre is complete and we are looking forward to working together to make it a success.
"Partners are confident the new centre will allow them to better utilise resources and improve productivity. The centre will work with young people to help them to make a positive contribution in their community by:
reducing crime and antisocial behaviour
providing them with a pathway to aim higher and achieve success
improving their health and wellbeing
getting them more engaged, involved and empowered
helping them make a positive contribution to their community
Jean O'Donnell, Chair of Cleveland Fire Authority said: "Young people in our community will benefit greatly from this unique centre and it will improve our ability to help and influence them in a positive way."