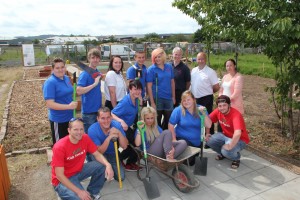 An allotment for South Bank residents to learn to grow their own vegetables is now up and running thanks to nine young people who are taking part in a youth programme run by Cleveland Fire Brigade.
The Prince's Trust Team Course runs for 12 weeks in the Redcar and Cleveland area, and is designed to engage young people aged 16 – 24, helping to develop key skills such as leadership, team working, problem solving and discipline as well as providing an insight into community safety and citizenship. People are referred to the course through local organisations such as Connexions, Job Centre Plus and Youth Intervention Services.
The Team handed over the allotment on Skippers Lane, to local youth service Kidz Konnekt, at a presentation last week after renovating it for two weeks as part of a community project. Local business, Marshalls of Eaglescliffe, supported the challenge by donating paving and Jewsons on Lawson Industrial Estate also helped by giving reduced prices on other building materials.
Abby Burton, Princes Trust Team Leader said: "They worked really hard, not only to transform what was a piece of wasteland into a community allotment, but also by raising the money so they could do it. This included bag packing in a local supermarket and, running a tombola and a name the bear competition at a Brigade open day. They raised a fantastic £700.
"The group have another six weeks left with us where they will be going on work placements, will get help writing their CV's, practice interview techniques and face a team challenge working with a local community group.  During the course they also work towards gaining a City and Guilds qualification and also learn key skills.
"The next Prince's Trust Team Course will run in September, anyone in the Redcar area who would be interested in taking part or would like more information can contact me on 01642 777640. It's a great way to learn new skills, give something back to the community and have fun at the same time."
Attached photo shows the team at the completed allotment