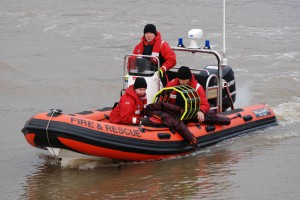 Crews from Cleveland Fire Brigade visited Hartlepool Marina during National Boat Fire Safety Week (30th May-5th June) to speak to boat owners and urge them to fit a smoke alarm and test it regularly.
Just two to three breaths of toxic smoke can cause unconsciousness and over the past five years, nationally, at least six people who died in fires on their boats could have survived if the boats had working smoke alarms fitted. Several other boats may not have been destroyed if owners had got an early enough warning to call the fire and rescue service and prevent the fire from spreading throughout the vessel. Two fires have occurred in boats on Teesside in the past year.
Firefighters conducted simulated water rescues in the marina throughout the week and gave boat owners safety advice.
Steve Owens, Thornaby Station Manager said, "'Working smoke alarms make a difference to the outcome of fires on boats. All boats with overnight accommodation should have smoke alarms fitted suitable for boats.
"Anyone with concerns about alarms, or fire safety in general, should contact us on 01429 874063 for a free Boat Fire Risk Check.  We are here to make sure your boat is as fire safe as possible. Boat Fire Risk Checks are available throughout England and offer boaters the opportunity to gain invaluable help and advice about how to identify potential problems before a fire starts and what to do if fire should break out. The key messages are:
Fit a suitable smoke alarm and test it regulaly
Make an escape plan
Know your location so you can tell the operator in an emergency
Follow the fire prevention advice from the Boat Safety Scheme
For boats, optical sensor alarms with hush buttons and sealed for life batteries are recommended as are choosing those with a British Standard 'Kitemark' or a LPCB 'Horseshoe' mark.  As with smoke alarms in the home, alarms should be tested routinely and should never be disconnected."
For more information please contact Steve Owens on 01642 766331.
For further information about general boating fire safety, visit www.boatsafetyscheme.com