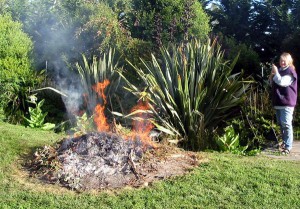 An appeal has gone out to residents living in the Cleveland area to refrain from having fires in their gardens.
The call has come from Cleveland Fire Brigade which is concerned about the potential impact on public health and safety, and the drain they are having on Brigade resources.
Statistics show that fire appliances were sent to 541 garden fire incidents in just 12 months across the Cleveland area from April 2010 to March 2011.
Peter Bradley, Cleveland Fire Brigade's Community Liaison/Arson Reduction Officer, said: "As we approach the summer months I am appealing to residents not to have fires in their gardens.
"The figures demonstrate that the Brigade attends a significant number of garden fires which are putting people's lives at risk and harming the environment.
"Councils throughout Cleveland actively promote home composting and recycling and this is something which we strongly support. Attendance by fire appliances at garden fires also potentially impacts on our ability to deal with more life-threatening incidents elsewhere."
The Brigade is asking residents to heed the following advice so they don't put themselves, their families and others at risk:
Under no circumstances have a fire in your garden
Burning garden waste gives off harmful pollutants
Fire spreads easily putting lives and property at risk
Garden fires create a drain on the Brigade's limited resources
Compost garden waste or recycle – your local Council will advise
If residents require further information about composting/disposal of garden waste they should ring their local Council on one of the following numbers:
Hartlepool Council – 01429 523846
Middlesbrough Council – 0800 0136001
Stockton-on-Tees Council – 01642 391959
Redcar and Cleveland Council – 01642 774774
You can also find out more about garden safety here.