Motorcyclists in the Cleveland Road Safety Partnership area can now learn how to control their bikes in a safe and professional way and ensure their road safety with a new training scheme, led by award-winning instructors.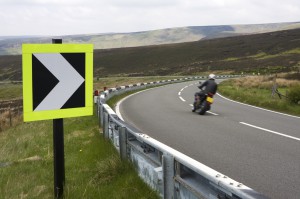 Operating in the local authorities areas of Hartlepool, Middlesbrough, Redcar & Cleveland and Stockton on Tees, Ridewell Tees Valley has 13 motor cycle instructors in the patch and is led by programme manager, former Cleveland Police motorcycle officer Nick Walker, and Steve Darby also a retired police motorcycle officer.
Nick said: "We aim to deliver training to meet each rider's specific needs and develop their skills.  Through this programme we also want to encourage riders to pass their tests and then continue to increase their motorbike experience with us so they grow in confidence and ability.  We want to keep motorcyclists safe on our roads and enable them to enjoy their riding at the same time."
Richard McGuckin, , Head of Technical Services, Stockton-on-Tees Borough Council and director, Cleveland Road Safety Partnership said: "In road safety terms, motorcyclists can be a vulnerable group if they don't ride correctly.  We want to do all we can to give bikers the very best training and information, so they can enjoy riding and keep as safe as possible. The advanced element of our training is unusual for a local authority run initiative and looks set to become extremely popular, for those riders who want to take their knowledge further."
Training is available for riders from 16 years old who can ride scooters through to veteran riders with years of experience. m/f
There is the option of training on one of a Ridewell Tees Valley's machines, which range from a 50cc scooter through to a Kawasaki ER6 650cc machine or alternatively motorcyclists can use their own bike.
Once they have passed the basic test riders can then take advanced qualifications with Ridewell Tees Valley in partnership with the Institute of Advanced Motorcyclists or the Advanced Drivers and Riders arm of RoSPA.
This new scheme is an amalgamation of  two existing programmes which operated under the brand name of the 'Handle it or Lose it' rider development programme for experienced bikers and Cleveland Motorcycle Training Scheme for novice bikers.
Riders for the advanced post-test element are able to experience the programme throughout the year, over a series of days or as a four-day intensive package and for beginners there are intensive courses available during the week or a series of weekend courses to enable riders to progress at their own pace.
The advanced scheme aims to help riders realise their potential, increase their forward planning on the road, make their riding more fluid and get more out of their bikes.  The programme will also increase cornering and overtaking skills. The courses are held at various sites in Hartlepool and Stockton as present. Further information is available on www.ridewellteesvalley.co.uk or tel  01642 526732.