Our aim:
To target young people with the Brigade's safety messages while delivering structured coaching. To raise the aspirations of young people and help them to adopt healthier lifestyles.
Fire-fit was introduced to promote positive links with young people and also to increase their awareness of fire risk and prevention.
Our activities also aim to get youngsters away from computers or the TV, getting them out and about playing sport in a structured and organised way, mixing with others and making better use of their spare time.
We deliver our activities in two ways:
schools – we offer set programmes in wards where incidents are high.
specific events/initiatives – sessions can be arranged at venues at times where anti-social behaviour and fire setting has been an issue.
Our qualified coaches help deliver an impressive range of pastimes and pursuits with various partners across Cleveland. Our activities include: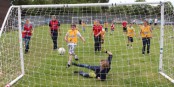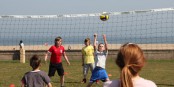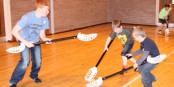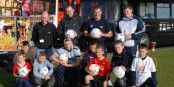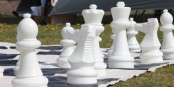 Football – with our partners we deliver "Play with a Football not with Fire". This sees young people improve their health and awareness of the dangers of fire and the consequences of anti-social behaviour.
Tag rugby – the scheme is run in partnership with local rugby clubs and helps young people into organised sport by joining clubs. This improves their health and develops better social skills and increased aspiration.
Rock-it-ball – leading sports experts have described this as "a truly dramatic and inspirational advance in sport". It is suitable for all age groups. Rock-it-ball is a mixture of lacrosse and dodgeball which has taken the area by storm.
Fishing – this sport is enjoyed with friends and allows youngster to make new ones. We have forged 'get hooked on fishing' links with a fishing charity to carry out several initiatives in this area.
Non-contact boxing – this combines all the skill and technique of boxing without being hit. Youngsters learn how to shadow box and it is all about speed, balance and self-control.
Volleyball – this activity places great demands on the player and improves strength, speed and quickness. We are working with schools to develop players and organise competitions.
Cricket – we deliver coaching and host games. Cricket requires control, concentration and team work; invaluable skills for young people in all areas.
Young people are a key vulnerable group at risk of injury and of their lives by fire. When social deprivation is introduced, the risk of accidental fire increases significantly. We are safeguarding the future by keeping young people in our area safe and healthy and this involves a multi-partner approach to the education and engagement of young people.
For more information, or to book attendance at an event please

contact us via:
Phone: 01429 874056 or 0773966180
Email: fire-fit@clevelandfire.gov.uk
Please read our leaflets on: