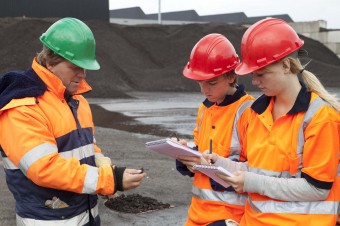 BUSINESS owners are being asked to be extra vigilant and emphasise safe working practices in their work place to help protect their premises against fire.
During the industrial action taking place for Friday 1 November between 6.30pm and 11.00pm and also Monday 4 November between 6.00am and 8.00am, Cleveland Fire Brigade has plans in place to ensure emergency response is in place however, there will be a reduced emergency response service, so it's asking for help from local employers.
Ian Hayton, Chief Fire Officer said, "Response to calls generated from automatic fire alarms and alarm receiving centres will be filtered via call back procedures and may need a backup call from the premises confirming there is a fire.
"We would also advise the appointment of Fire Wardens throughout your business as they can increase the safety of your premises and employees and ensure you comply with the Regulatory Reform (Fire Safety) Order. Details of this can be found on our website at www.clevelandfire.gov.uk/order."
"As this industrial action is taking place outside normal office hours and with it being in the run up to Bonfire Night, we are asking businesses to be aware of the dangers from arson and to take extra care."
Business Safety Advice:
Outside premises:
remove rubbish and waste daily if needed

use metal bins

store all outside combustible materials well away from premises

ensure good housekeeping policies are maintained

Do not fix plastic wall-mounted waste bins underneath roof canopies

Ensure regular maintenance programmes for all electrical and mechanical equipment

Service fire alarm systems regularly to ensure early detection of fire
Lighting/fluorescent lighting
Change tube and starter simultaneously

Change tube as soon as it starts to flicker, becomes difficult to start, shows signs of discolouration or blackening at ends

Check life expectancy of lighting unit

Have replacement policy for units
Burnt foodstuffs
Do not leave food cooking unattended, including microwaves and toasters

Adopt good daily cleaning procedures for spills
 Fast food outlets
Ensure regular maintenance and cleaning of cooking appliances and extractor systems and filters by reputable company
Electrical appliances
Turn off all electrical equipment when not in use

Ensure good maintenance of wiring, sockets and plugs

Do not use adaptors, fit extra sockets

Ensure portable appliance testing is up to date (PAT Test)
No Smoking policy
Ensure your No Smoking Policy is adhered to in line with the Law
Hot Work
Issue permit to work systems for hot work/contractors
 Heaters
Replace all open flame heaters with oil-filled radiated heaters

Do not place combustible materials above or near to heaters
You can also find up to date information about the industrial action and more safety advice at www.clevelandfire.gov.uk/action or follow us on Twitter (@clevelandfb) or Facebook (/clevelandfb) for up to date news.
If you do not have access to the internet and need some fire safety advice, please call us on 01429 872311 during this industrial action.