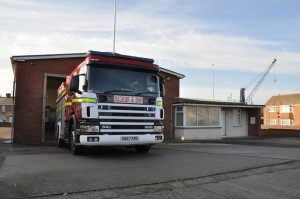 Cleveland Fire Brigade is announcing further plans to upgrade its building assets – at Headland Fire Station, Hartlepool.
The new station will continue to be an operational fire station, delivering protection, prevention and an emergency response service. It will continue to have one pump and deliver these services to all its community at the Headland, Hartlepool.
It is also planned to have some community facilities within the new station which is planned to be completed in July 2014.
It is anticipated that work on the new fire station, which will be rebuilt on its existing site will start this year. However, due to the temporary fire station being on the existing site, all services will be maintained to an excellent level.
A planning application to provide temporary accommodation to house the appliance and other ancillary accommodation has been lodged with the local Planning Authority and it is envisaged that demolition of the existing Headland Fire Station will commence August/September this year.
Chief Fire Officer, Ian Hayton, stated: "As an emergency service it is important that we continue to provide essential services and meet our standards even whilst the rebuild of our fire stations is taking place. There will be no impact to the community of the Headland, either the residents or the retained firefighters during the rebuild of the new fire station. The same excellent service will be delivered from the same site through temporary accommodation for staff and the fire appliance."
Councillor Robbie Payne, Chairman of the Fire Authority and Ward Councillor for the Headland, stated:
"This is fantastic news for the people of this community. It is a great investment made by the Fire Authority and is a long term commitment to the delivery of high class community safety and emergency response services to the people of Headland."