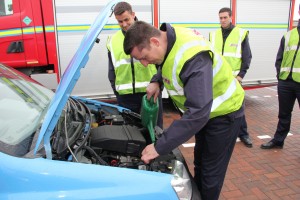 AWARENESS about driving the morning after a night out drinking alcohol is the main theme at an event for students at Middlesbrough College this week.
Cleveland Fire Brigade in conjunction with Cleveland Police and Middlesbrough Council Road Safety Team will be holding a road safety event on Wednesday 12 December between 11.00am-2.00pm in the main entrance and car parks.
The emphasis on the day will be warning students not to drive the morning after a night out as according to the Department for Transport figures, drivers under the age of 25 fail more breath tests than any other age group. To help students understand the consequences and dangers they will be able to try out 'beer goggles' and try to perform simple tasks such as a child's shape sorter, there will also be an alcohol unit calculator available, as well as 'mocktails' to taste.
Fire Crews will also be carrying out vehicle safety checks which will include, Checking lights are working, making sure wiper blades are working, ensuring tyres are satisfactory, filling up washer fluid and giving road safety advice.
Ed Parrish, Watch Manager at Marine Station said: "We want to make our roads safer for all road users. So far this year (January to October 2012) there have been a total of 1,157 casualties as a result of road traffic collisions throughout Cleveland, of which 135 received serious injuries and 8 were fatalities.
"People often don't realise they are over the limit the next morning after drinking the evening before but by demonstrating this to the students we hope they will be more aware and make a choice of either not drinking or not driving.
"I would also urge the students to come and take advantage of the free vehicle checks  to ensure their cars are road worthy and suitable for the wintery weather."
Middlesbrough Road Safety Officer Lynn Hepworth said: "If you don't drink and drive this Christmas you reduce the risk of killing an innocent person, or yourself. It is really that simple.Our message is clear: Do not let a selfish decision ruin your life or someone else's, Christmas should be a time for celebration and not for spending a night in a cell."
To find out more about road safety visit www.clevelandfire.gov.uk/road or follow us on Facebook or Twitter.