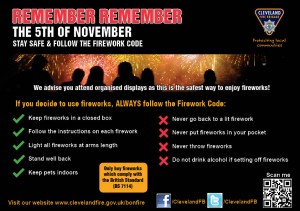 Cleveland firefighters are calling on local residents and businesses to help reduce incidents and injuries as Bonfire Night approaches.
Last year there were a total of 275 deliberate rubbish fires over a 24-day period (21 October-13 November), many of which were unofficial bonfires and more than 50 people were treated in local hospitals after sustaining bonfire or firework-related injuries.
Cleveland Fire Brigade's hard-hitting campaign for this year will be launched on Thursday 25 October at the Brigade's Learning and Development Centre where activities, equipment and safety messages will be showcased. These activities include pupils from Grangetown Primary School learning how to stay safe over the coming weeks and young people learning new skills working with the Brigade. Representatives from some of our partners including Cleveland Police, Redcar and Cleveland Council's Bonfire Removal Team and Stockton Neighbourhood Enforcement Officers will also be there.
Phil Lancaster, Director of Community Protection said: "Over the last few years we have been successful in reducing the number of fire incidents over the bonfire period, but unfortunately this is still one of our busiest times of the year because sadly this time of celebration always results in tragedy and misery for some families.
"Our message is quite simple is – Stay Safe and:
Don't get involved in unofficial bonfires
Report any unofficial bonfires to your local council
Attend an official fireworks display if you can
If you decide to hold your own firework display, always follow the Firework Code
"Local residents and businesses have been extremely supportive in reporting unofficial bonfires and we appeal for their support once again.
"We will certainly not give up in our efforts to get important safety messages across to the people of Cleveland. We are not killjoys; all we are asking is that people follow some simple advice to stay safe.
"Remember deliberate fires cost this area millions of pounds each year. Enough is Enough, no one should have to put up with the setting of deliberate fires and associated anti-social behaviour in their community."
People can report unofficial bonfires or discarded rubbish as follows:
Stockton on Tees:
Email: careforyourarea@stockton.gov.uk
Office hours call: 01642 391959
Out of office hours call: 01642 528989
Middlesbrough:
Email: envservices@middlesbrough.gov.uk
Office hours call: 01642 726001
Out of office hours call: 01642 726050
Redcar and Cleveland:
Email: contactus@redcar-cleveland.gov.uk
Office hours call: 01642 774774
Hartlepool:
Email: customer.service@hartlepool.gov.uk
Office hours call: 01429 523333
Out of office hours call: 01429 266522, then Option 1, then Option 2.
If anyone sees or has any information about arson or anti-social behaviour in their area, call Crimestoppers anonymously on 0800 555 111.
The Brigade's campaign involves working closely with partners including the Police, local councils and other key organisations and includes visiting schools and community organisations, cycle patrols, sports, working with the media, posters, leaflets and online activities.
For further information and safety advice visit www.clevelandfire.gov.uk/bonfire or follow us on Facebook or Twitter (clevelandfb)