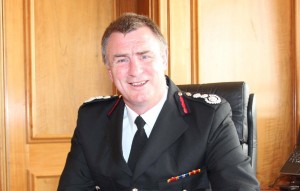 Cleveland Fire Brigade's Chief Fire Officer has praised the Cleveland community and his own workforce following the release of the Brigade's annual performance figures.
The Brigade's 2011/12 Performance & Efficiency Report shows that there were 193 accidental house fires in Cleveland – a 5% drop on the previous year and the lowest per 10,000 population in the country.
Cleveland also performs well when it comes to the number of Home Fire Safety Visits carried out during the last year with firefighters visiting 19,000 homes. This placesClevelandin the top 4 of all fire authorities.
The figure for primary fires (any fire that involves casualties, rescues, property or at least five appliances) has also reduced – down 4% from 835 to 805 during the same period.
Cleveland Fire Brigade was recently hailed for being the first Brigade in the country to fund and install low cost domestic sprinkler systems into domestic properties.
Chief Fire Officer Ian Hayton paid tribute to the great partnership work in driving down the figures.
He said: "It is always encouraging to see the number of fire-related incidents reducing and I put this down to the excellent partnership working throughout the Brigade area.
"Cleveland Fire Brigade has a very dedicated team of professionals who work tirelessly with other key organisations to protect our local communities and to help them stay safe.
"A major part of our work is to reach out to residents and businesses, advising them of the risks they face and what they can do to prevent fires. Our free Home Fire Safety Visit is a major part of this work and to carry out 19,000 visits during the last year is a significant achievement.
"The people of Cleveland are very receptive to the advice that we give and the measures they are taking to protect themselves and their properties has to be applauded.
"We must not rest on our laurels however and by working together I am confident that we can bring down these figures even further."
To view the full 2011/12 Performance & Efficiency Report click here.