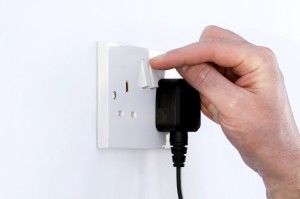 PEOPLE across Cleveland are being urged to follow some simple bedtime checks to avoid the risk of electrical and other fires in their home.
The advice is being issued by Cleveland Fire Brigade in partnership with the Electrical Safety Council and Fire Kills as part of Electrical Safety Week from 23rd to 29th January.
Nationally, half of all deaths caused by fires in the home happen between 10pm and 8am, when many people are asleep, and some of those fatalities are caused by people forgetting to switch off electrical appliances when they go to bed.
Les Jones, Head of Community Safety for Cleveland Fire Brigade, said: "Many people leave electrical equipment on when they go to bed when they do not need to and tragically in some cases this can cause fires.
"Apart from electrical appliances, other things such as candles and cigarettes can also cause problems at night if they are not dealt with safely. We strongly advise people to follow our simple tips to make sure they have a safe night's sleep."
The bedtime checklist is:
1. Switch off and unplug electrical equipment – only leave on appliances that are designed to be left on, like the fridge or your DVD recorder.
2. Check your cooker – make sure the grill, hobs and oven are all turned off.
3. Don't leave the washing machine, tumble dryer or dishwasher on. Their high speed of operation, friction and motors mean they can be a fire risk.
4. Turn heaters off and put a guard in front of an open fire.
5. Turn off your electric blanket – unless you are absolutely sure it can be left on safely, for example if it has a thermostat.
6. If you use candles to brighten your home, check that they are completely out – they can go on smouldering and start a fire. Never leave one burning when you go to sleep.
7. If you smoke cigarettes or a pipe, make sure they are totally extinguished, wetting them if need be. Never smoke in bed.
8. Close all doors – this can slow down the spread of a fire.
9. Check your escape route – it should be clear of obstacles. Make sure everyone knows where the door keys are.
For more advice on your bedtime safety routine click here. You can also follow us on Twitter or Facebook for more safety advice and news.
Remember we offer all residents a free Home Fire Safety Visit, in which firefighters will come to your home and give valuable safety advice and help make an escape plan which will be tailored to you and your family's needs. Free smoke alarms will be supplied and fitted if needed. Call us on 01429 874063 to arrange a visit at your convenience.