Cleveland Fire Brigade warns people not to let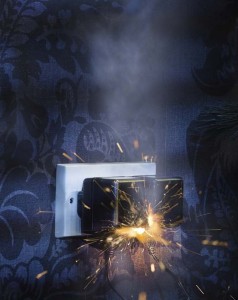 electrical failures set their world alight as part of
Electrical Fire Safety Week this 23-29 January.
Shocking statistics show that nationally, half of all accidental house fires in 2010/11 were caused by faulty or misused electrical equipment.
From faulty fridges and abandoned irons to dodgy plugs and wiring, electrical equipment can be an unnoticed fire hazard in the home. With winter weather, many sockets could still be overloaded with space heaters and electric blankets. 
So Cleveland Fire Brigade has joined forces with Government fire safety campaign Fire Kills and the Electrical Safety Council to make sure people know the risks and take care when using electrics in their home.
Across England, over 2010/11, 19,454 accidental house fires involved faulty or misused electrical products, with 38 of those resulting in fatalities. Despite no fatalities in Cleveland, there were 24 casualties, and Cleveland Fire Brigade is working hard to bring this number down.
But every individual can take steps to help themselves by checking that the electrical equipment they use is in good shape and is operated properly.
Phil Lancaster, Director of Community Protection for Cleveland Fire Brigade said:
"Electrical equipment is an inescapable part of all our lives, from essentials like heating and lights to luxuries like entertainment systems or beauty products. Half of all accidental fires begin with an electrical appliance, so it's really important to be sure that your electrics are in good working order and are used properly.
"Most electrical fires start in the kitchen, so be extra careful with cooking equipment.  Fire in the home can be devastating, but many of these fires are preventable. By following some simple steps, you can help keep you and your loved ones safe from fire."
Don't overload plug sockets – extension leads and adaptors will have a limit to how many amps they can take. Try to keep one plug per socket.
Regularly check for worn or frayed wires – always check that cables are secured properly to the plug before plugging an appliance in.
Unplug appliances when not in use, unless they are designed to be left on – e.g. freezer.
Keep appliances clean and in good working order – Look out for fuses that blow, circuit-breakers that trip for no obvious reason and flickering lights.
Unplug your electric blanket before you go to bed, unless it has a thermostat for safe all-night use.
Portable electric devices i.e. laptops/hair straighteners should be placed on a well-ventilated surface and never left on beds or sofas.
Keep heaters clear from curtains and furniture and never use them for drying clothes
Check for the British or European Safety mark.
Consider using an RCD – Residual Current Device – which works like a circuit breaker to protect against electric shocks and reduces the risk of electrical fires.
If a fire occurs – get out, stay out and call 999.
For more electrical safety advice, click here or follow us on Twitter or Facebook.
Remember we offer all residents a free Home Fire Safety Visit, where firefighters will come to your home and give valuable safety advice and help make an escape plan which will be tailored to you and your family's needs. Free smoke alarms will be supplied and fitted if needed. Call us on 01429 874063 to arrange a visit at your convenience.