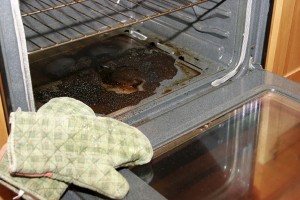 Cleveland Fire Brigade has issued a stark warning to residents that their Christmas could be ruined if they don't keep their cooker clean. The warning comes just days after the Brigade launched its 'Stay Safe and Celebrate' campaign which will run throughout the festive season.
Around 60% of accidental house fires start in the kitchen and many could be avoided as Les Jones, Head of Community Safety with Cleveland Fire Brigade, explains.
"When people are cleaning their kitchen, the cooker is often overlooked which can make it a potential fire hazard.
"It is so important that people always keep their oven, hob, grill and microwave clean as a build up of fat and grease can easily catch fire.
"However, it is particularly important at this time of the year as people use their cookers for longer periods as they roast their Christmas turkey or other festive fare."
Mr Jones also urged residents to keep their toaster clean, free from crumbs and away from curtains, kitchen rolls and anything else that could catch fire.
Residents are encouraged to visit the Brigade's website – www.clevelandfire.gov.uk/celebrate – where they can click on to an interactive house and get detailed safety information and advice.
The 'Stay Safe and Celebrate' campaign involves firefighters and Brigade personnel getting out into the community to spread their safety messages plus posters, leaflets, a Christmas card competition for schools, liaising closely with the media and the use of social networking sites where there is advice and videos. 
To help keep you and your family safe from fire, the Brigade provides free Home Fire Safety Visits and will fit smoke alarms if needed. Call us on 01429 874063 to arrange a visit to your home and you will receive specific fire safety advice for you and your family.