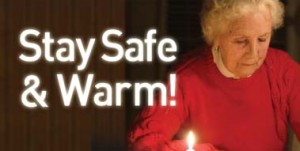 EVEN before the winter temperatures have really begun to bite, a major campaign to help vulnerable people across Teesside to stay safe in their homes during cold weather is already playing a vital role.
Led by Cleveland Fire Brigade in partnership with a number of key partners, the annual 'Stay Safe and Warm' campaign aims to raise awareness of the dangers faced by people who struggle to keep warm in the cold months and to provide help and support.
Since it was launched at the start of October, it has already helped 45 people, including lending 55 heaters and 35 thermal blankets.
Over 25,000 people in the UK die each year because they can't keep warm in their own homes. This is due to either faulty heating or because worries about the cost of fuel force them to turn their heating off or down to unsafe levels or because they use cheaper and less safe forms of heating which can cause fires.
Among the Teesside cases dealt with since this year's campaign began was that of a young single mother with a one-year-old child who was living in a freezing cold house with only an old, unsafe halogen heater for warmth. Her partner had died and she had also lost her job, leaving her very depressed.
The Stay Safe and Warm partners have provided her with a safe, reliable heater and have arranged benefits advice and bereavement counselling. They have also put her in touch with appropriate organisations to provide her with baby safety equipment.
In another case, the alarm was raised after a carbon monoxide detector was found to be sounding at the home of an elderly couple with dementia.
The couple's family was contacted and arrangements were made to take the couple out of the house while an emergency gas fitter investigated. The gas was then disconnected and the source of the carbon monoxide leak was tackled. While the repairs were being carried out, the Stay Safe and Warm team made heaters and blankets available to keep the elderly couple warm.
Les Jones, Cleveland Fire Brigade's Head of Community Safety, said: "Although we have had one of the mildest autumns in many years, the situation is deceptive and we have already helped a number of very vulnerable people who were in difficulty.
"Being able to keep warm at home can literally be a matter of life and death and it's vital that we identify those at risk so we can take swift action to keep them safe. Last year we helped nearly 400 people."
In an important addition to this year's campaign, all Teesside's hospitals are enquiring about a person's home heating arrangements when the person enters hospital, so that any heating issues can be tackled before the patient goes home.
Partners in the Stay Safe and Warm project are the Teeswide Safeguarding Vulnerable Adults Board and its members Cleveland Police, North East Ambulance Service, Age UK Teesside, Cleveland Fire Support Network, North Tees and South Tees Hospitals NHS Foundation Trusts, NHS Tees, Tees, Esk and Wear Valleys NHS Foundation Trust, Durham Tees Valley Probation Service, Victim Support and the Hartlepool, Middlesbrough, Stockton and Redcar and Cleveland Councils.
Anyone who is worried that they may not be able to heat their home properly or is concerned about a family member, friend or neighbour, should call the Fire Brigade on 01429 874063. More information is also available at www.clevelandfire.gov.uk/warm