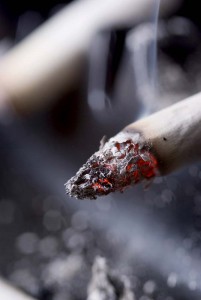 As part of its Stay Safe and Celebrate campaign, Cleveland Fire Brigade is urging residents who smoke to follow their important advice this Christmas. The campaign, launched on 2 December, aims to raise awareness of common causes of house fires.
One of the Brigade's six key campaign messages is stub cigarettes out fully and don't smoke in bed. In the past year, 30 fire incidents across Cleveland were caused by smoking materials – 7 of which involved smoking in bed and 10 were the result of careless disposal.
Phil Lancaster, Director of Community Protection, said: "Nationally, one in three accidental home fire deaths are caused by smoking and households with a smoker are almost one and a half times more likely to suffer a fire than non-smoking households. These facts alone exemplify how important it is to be careful if you smoke.
"Of course the safest and healthiest thing is to stop smoking which could be the best gift you can give to your family and friends but if you are going to continue with the habit then we strongly suggest that you follow our guidelines to ensure that you and your family Stay Safe and Celebrate:
Safety Tips
Make sure you stub your cigarette out fully when you have finished.
Never smoke in bed – if you feel sleepy or need to lie down, do not light up as by dozing off you could set your bed on fire.
Never leave cigarettes, cigars or pipes unattended as when they burn down they can easily overbalance and start a fire.
If you are tired, have had a festive drink or take medication that can make you drowsy, take extra care. It is very easy to fall asleep without realising your cigarette is still burning.
Always use a proper, heavy ashtray made of material that won't burn and that won't tip over easily.
Wet contents of ash trays before emptying them into a metal bin outside the home. Do this regularly.
Never tip ash into a wastebasket.
Keep all matches and lighters out of the reach of children. Where possible, buy child-resistant lighters and matchboxes.
Remember, if you would like to quit smoking, you can call the NHS Stop Smoking Helpline anytime on 0800 1690169 or visit www.smokefree.nhs.uk/
For further information on safety in the home, visit the Brigade's interactive house website and get further advice.
The 'Stay Safe and Celebrate' campaign involves firefighters and Brigade personnel getting out into the community to spread their safety messages plus posters, leaflets, a Christmas card competition for schools, liaising closely with the media and the use of social networking sites where there is advice and videos. 
To help keep you and your family safe from fire, the Brigade provides free Home Fire Safety Visits and will fit smoke alarms if needed. Call us on 01429 874063 to arrange a visit to your home and you will receive specific fire safety advice for you and your family.