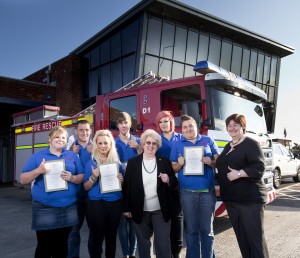 Seven more young people have gained qualifications and new skills thanks to a course ran by Cleveland Fire Brigade and youth charity The Prince's Trust.
The Prince's Trust Team programme is a 12-week course which supports 16-25 year olds who have struggled at school, have been in care, are long-term unemployed or have been in trouble with the law. The course gives unemployed young people the skills and confidence they need to find a job.
This was the 21st programme ran by the Brigade which coincides with the 35th anniversary of The Prince's Trust which will be celebrated throughout August.
Abby Burton of Cleveland Fire Brigade said: "This course aims to make a difference to the lives of young people within the Cleveland Fire Brigade area and we are fortunate enough to have a great working relationship with both The Prince's Trust and Stockton Riverside College who support the programme.
"It's a great opportunity for people to learn new skills and work as a team, and everyone on the course found it thoroughly rewarding. As well as all the group activities, everyone on the course received help in writing their CVs and learning interview techniques which will help them when applying for jobs in the future.  The next course starts in September, if you are between 16 – 25 and would like to find out more please contact me on 01642 777650."
All of the youngsters have received a City and Guilds qualification as well as Key Skills, and they were presented with a Prince's Trust Achievement Certificate during a special ceremony last week at Redcar Community Fire Station. Certificates were presented by Councillor Jean O'Donnell, Chair of Cleveland Fire Authority.
The group gained knowledge about team building whilst on a week's residential course at Shining Cliff Centre in Derbyshire where they took part in a range of outdoor activities including abseiling, caving and raft making. They also spent time at the Brigade's Learning and Development Centre where they were taught search and rescue skills, learned Heartstart emergency aid and did a one-day IOSH Working Safely Certificate.
Other tasks undertaken by the group included helping to transform an area of land in South Bank, Middlesbrough into a community allotment so that local residents can grow their own vegetables; and they ran activities over the course of a week with the Building Bridges Day Centre in Saltburn.
Councillor Jean O'Donnell said: "The young people who have taken part in the course should be very proud of what they have achieved over the past 12 weeks. The course is an excellent way to gain new skills which will help them gain further qualifications or employment."
As part of The Prince's Trust's 35th birthday celebrations his summer, the charity is giving away lots of fantastic prizes. To be in with a chance of winning simply go to www.facebook.com/princestrust, click on 'Like', then follow the clues on The Trust's Facebook Wall.
Picture Caption – Councillor Jean O'Donnell (front centre), chair of Cleveland Fire Authority is pictured after presenting the certificates. Pictured (l-r) are Angela Fairley, James Fenwick, Sophie Petch, Tom Jenkins, Stephanie-Ann Mitchell, Deanne Gazzard…….. (Dale Varley) completed the course but was unable to attend presentation.