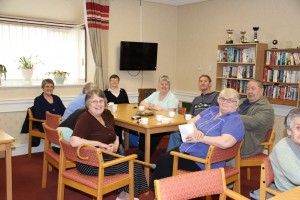 CLEVELAND Fire Brigade teamed up with its partners to create a "One Day Challenge" passing on the benefits to residents in the Beckfields area of Middlesbrough.
On Wednesday (April 6th between 10am to 4pm) the Brigade and partners held a series of events in the area aimed at improving safety and standards of living. The event was held at the Netherfields Community Centre, along with other activities including sports coaching taking place at the Unity City Academy.  The Brigades Community Safety team linked up with the residents of Glastonbury House, delivered vital fire safety education, and issued risk reduction equipment where needed.
Safety and security advice along with healthy activities were just some of the items delivered as part of the "One Day Challenge" which was free to all. 
Partners which include Cleveland Police, Cleveland Fire Support Network, Middlesbrough Borough Council and Erimus Housing all had representatives available to answer any questions from the community. 
Residents were able to book Home Fire Safety Visits so the Brigade could visit them and give free home fire safety advice and also provide free smoke alarms where needed. Advice on securing property from crime, how to help in getting streets cleared and avoiding arson was also part of the day.
Paul McPike, Middlesbrough Station Manager said: ""By working with our partners and raising the residents' awareness of fire safety and security, and engaging with the young people we hope to make the area a safer and better place to live."
To help keep you and your family safe from fire,the Brigade provides free Home Fire Safety Visits and will fit smoke alarms if needed. Call 01429 874063 to arrange a visit to your home and you will receive specific fire safety advice for you and your family.
For further safety information and news about the Brigade visit www.clevelandfire.gov.uk or join us on Facebook or Twitter.