Cleveland Fire Brigade has landed an award for its efforts to promote equality.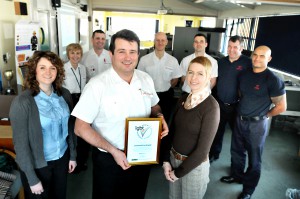 Phil Lancaster, the Brigade's Director of Community Protection was recently presented with the Middlesbrough LGBT (Lesbian, Gay, Bisexual & Transgender) Inclusion Award by Lesley Duggan, LGBT Inclusion Officer with Middlesbrough Voluntary Development Agency.
Mr Lancaster, the LGBT Champion for the Brigade, said: "I am delighted to receive the award on behalf of Cleveland Fire Brigade.
"The award is in recognition for all the excellent work Cleveland Fire Brigade has done in promoting equality in the area of LGBT issues.
"It reflects, not only our ongoing commitment to ensure equality in the service we provide to the residents of Cleveland, but also our workforce. This Award sends a clear message to our employees and the community that all aspects of diversity are important and inclusivity is integral to everything we do."
The following Brigade initiatives helped to win the award:
Hosting a PRIDE community breakfast event prior to attendance at Middlesbrough Supergay
Attendance at Middlesbrough Supergay with community safety information
Developing a transgender awareness policy for Brigade employees
Flying the rainbow flag which is a clearly recognised symbol of the LGBT community
Cleveland Fire Brigade offers residents a free Home Fire Safety Visit, where firefighters will come to your home and give valuable safety advice and help make an escape plan which will be tailored to you and your family's needs. Free smoke alarms will be supplied and fitted if needed. Call us on 01429 874063 to arrange a visit at your convenience.