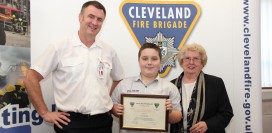 A NORTH EAST lad swapped quick fingers on his Nintendo DS to quick thinking to help save his Mum's life after a blaze at their home.
Jake Goode, aged 12, from Guisborough was presented with a Chief Fire Officer's Commendation on Friday 25 March 2011, after his quick thinking, improvisation and action probably helped save his Mum Louise's life.
The pair avoided serious injury in the house blaze and on Friday Jake's actions earned him the praise of Cleveland Fire Authority as he received his commendation certificate from the Chief Fire Officer.
On Tuesday 14 December 2010 Jake woke up to an orange glow coming from the airing cupboard in his bedroom. An electrical fault on the immersion heater had sparked the blaze causing a leak from the water tank which had tripped the electrics.
The smoke alarm went off, but Jake realised his Mum had not woken up. Unable to turn on the lights and with smoking filling the room Jake grabbed his Nintendo DS Lite and used the glow from the screen to guide himself and he was able to wake his Mum and guide them both to safety.
Jake received his commendation from Ian Hayton, Chief Fire Officer, Cleveland Fire Brigade in front of the Members of Cleveland Fire Authority, his parents and the crews from Coulby Newham Fire Station who nominated him for this award.
Ian Hayton, Chief Fire Officer said: "Jake's quick thinking to use his Nintendo DS as a light source to help guide himself and his Mum out of the house probably saved their lives. The fact that the house had a working smoke alarm fitted was also a factor in the positive outcome of this incident."
Jake's parents Mick and Louise said "We are both proud of Jake and what he did. He is our hero."
Councillor Mrs Jean O'Donnell, Chair of Cleveland Fire Authority said "Jake's quick thinking helped save both of their lives and emphasises the need for smoke alarms and a well thought out escape route for your family should a fire happen at home."
To help keep you and your family safe from fire,the Brigade provides free Home Fire Safety Visits and will fit smoke alarms if needed. Call 01429 874063 to arrange a visit to your home and you will receive specific fire safety advice for you and your family.