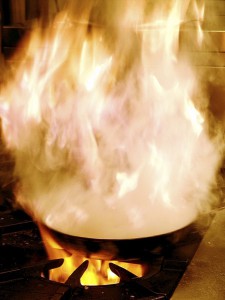 Raising awareness of kitchen fire safety is at the top of Cleveland Fire Brigade's agenda this month after latest figures showed that half of accidental house fires start in this part of the home.
The main causes are people leaving pans unattended including grills and chip pans, or items being left too close to the heat source such as towels, a CD player, paper and a washing basket.
Fire Chiefs are urging residents to take more care when cooking, to be aware of how to deal with a fire if one occurs in their kitchen and not to take any risks. They are also advised to make sure they have a working smoke alarm which is checked weekly.
Les Jones, Head of Community Safety for Cleveland Fire Brigade, said: "Last year 101 fires started in the kitchen accidentally and these fires could have been prevented. There are several things you can do to help avoid fires such as try not to get distracted when cooking and avoid leaving children on their own in the kitchen whilst keeping matches and pan handles out of their reach.
"Also take care if you are wearing loose clothing and don't cook if you have been drinking alcohol or have taken strong prescription drugs as you may become drowsy or lose concentration.
"If a pan does catch fire, don't move it, turn off the heat if it is safe to do so, get out and call 999. Don't use a fire extinguisher on a pan of oil because the force of the extinguisher can spread the fire and never use water on chip pan fires as this could cause a fire ball."
Cleveland Fire Brigade offers residents a free Home Fire Safety Visit, where firefighters will come to your home and give valuable safety advice and help make an escape plan which will be tailored to you and your family's needs. Free smoke alarms will be supplied and fitted if needed. Call is on 01429 874063 to arrange a visit at your convenience.